EARN 70% on LOUIS VUITTON & CHANEL!
August 24, 2017
CONSIGN YOUR CHANEL OR LOUIS VUITTON HANDBAG WITH US AND EARN 70% OF THE SELLING PRICE!
OFFER GOOD THROUGH 9/15/17.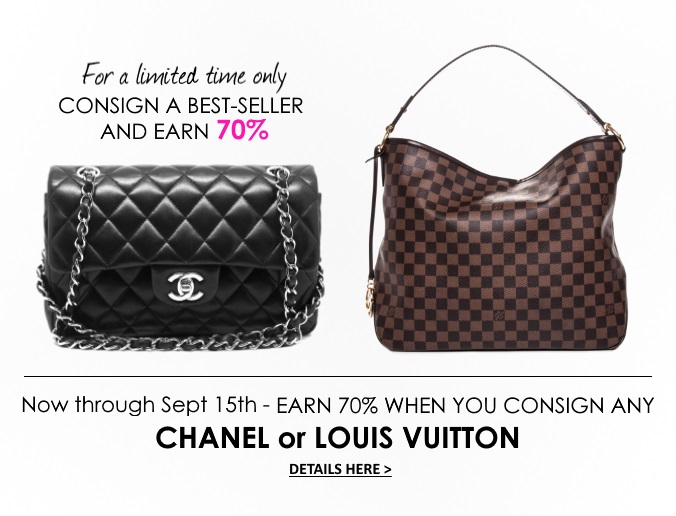 We want to sell your CHANEL or LOUIS VUITTON bags for you! If you choose to consign with us, you will earn 70% on ANY Chanel or LV handbag. Handbags must be current in style, in excellent pre-owned condition, and 100% authentic to be accepted for consignment.
*This special offer to earn 70% for consignment is good when you consign by 9/15/17. This promotion applies to CHANEL and LOUIS VUITTON HANDBAGS only. Other items (such as shoes, clothing, and accessories) will be subject to our regular consignment splits.
CALL US TODAY TO SCHEDULE YOUR PERSONAL CONSIGNMENT APPOINTMENT (508)655-4478
42 Worcester Street (Route 9), Natick, MA
MON: 10AM-5PM• TUES, WED & THURS: 10AM - 6PM
FRI & SAT: 10AM - 5PM • SUN: CLOSED