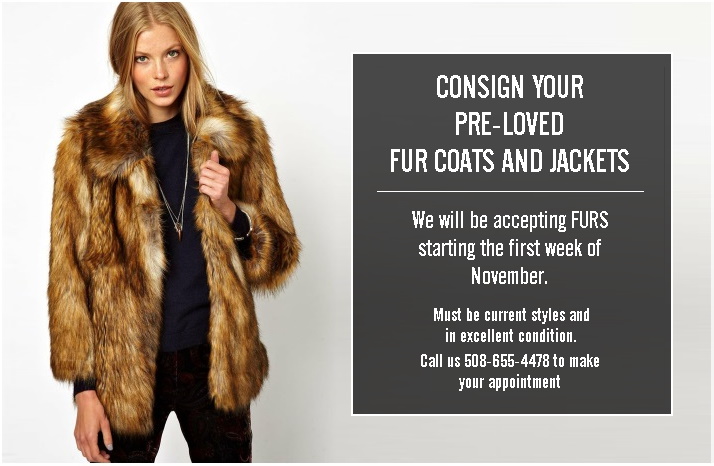 With the temperatures dropping and winter fast approaching, DC NATICK wants your FUR COATS! We will begin taking appointments to view and appraise fur coats in current, on-trend styles that are in PRISTINE condition. Please review the following if you would like to consign your fur coat with us for the Winter 2019/20 season:
Appointments are required, no drop offs.
All Furs must be in PRISTINE condition, with no musty odors, shedding, drying, splitting, or any other damages. All Furs that we accept must be in "Like New" condition.
All Furs must have working zippers, toggles, buttons, and/or any other forms of closure.
We will only accept Furs which are of current trend/style. Classic vintage pieces would be an exception, as these styles are timeless or any furs that have recently come back into style (such as oversized 80s/90s furs).
All Furs will remain on consignment through February 28, 2020, regardless of drop-off date. If at any point during the consignment period, consignors wish to retrieve their items they may do so prior to the end date.
Prices and markdowns are determined at the sole discretion of DC Consignments. Consignors may pick up their furs to avoid markdowns at any time.
If you've reviewed our terms and have a beautiful fur coat you'd like to RECYCLE and turn into cash, CALL 508-655-4478 TODAY FOR AN APPOINTMENT!